10 Tips for Winter Cycling : The Winter Biking and Rust Protection Guide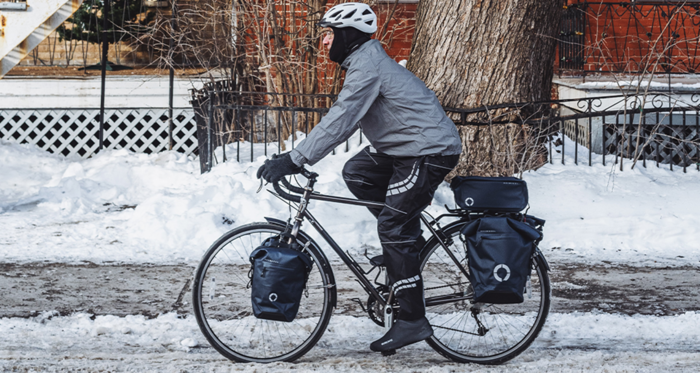 The first snow fall has arrived in Ottawa!
We've started with the snow and I'm certainly not looking forwards to the slushy, dark and cold rides ahead... certainly not the ideal cycling weather. However, I'll be giving away some of my best tips and tricks for a warmer winter commute and how to keep your bike from falling apart half way through the season.
The TLDR (too long, didn't read). In short....
Keeping warm
Keeping dry
Rust proof your bike
Bike choice makes a big difference
Tire choice is essential
Your little blinky red light is not cutting it.
Fenders help.
Keeping Warm & Dry: How to dress for winter cycling.
 Keeping warm, especially the hands can be super tricky. Your hands are face on with the wind and it's common for gloves and clothes to get wet.
Tip #1: Keep your hands warm, wear good mittens. I remember when my hands used to get so cold I would ride no-handed and tuck them under my armpits... not the best way to ride on slippery roads.
Warm mittens that keep your fingers together are the ultimate way to keep your hands from freezing off on those super cold days.
On those really really cold days, wear thin gloves and mittens on top.
Tip #2: Dress in layers and bring your work clothes in a bag. That thick parka will not do you any good on the commute to work. You'll feel bulky and quickly overheat. If you wear that nice new dress shirt underneath your cycling clothes, you'll be disappointed at the pit stains when you arrive at the office.
Start with a base layer, wool or a synthetic long sleeve.
Top that with a fleece or sweater (non-cotton, cotton is them enemy, see here for why)
A down or puffy jacket, this is the layer that changes based on the temperature. I wear a thicker down jacket (puffy jacket) on colder days and a thinner one on warmer days or longer commutes. 
A waterproof and ideally, breathable outer shell. Bonus points if it's reflective. Ski shells work well, rain pants are a must too.
Reflective clothing. Drivers are sometimes not paying attention... wear reflective clothing like a construction vest or cycling jacket that will shine when cars come towards you. This is a MUST in the winter.
Rust proofing that bike. How to prepare a bike for winter riding.
Tip #3: Rust Proof. Salt and slush can bring your bike to a grinding halt in a matter of weeks. I always start the season with re-packing my bearings, bottom bracket and headset. I spray rust-proof, a foaming rust protection product on common rust points like my pedals, bottom bracket, axles, exposed cables and mounting bolts. Keep in mind, grease attracts dirt and by the spring, your bike will need a serious clean.
Tip #4: Rinse and lube the chain. I'm lucky my condo has a car wash where I can drop in and spray my bike down with some water before oiling the chain. That quick wash down helps to get most of the salt off my bike and applying my -50 Winter Chain Lube.
Pro Tip: Winter chain lube helps to keep your chain flexible in the coldest of days as it has a lower freezing point.
Bike Choice: Single Speeds and Fixies For The Win.
Tip #5: Rock a single speed. Our favorite is the State 4130 All-Road, a steel frame single speed build for durability.
Derailleurs will freeze, salt and slush splashing up onto your gears will reek havoc on your drive-train and trying to turn that rusted barrel adjuster for some on the fly adjustments is not fun.
Single speeds are simple, robust and ultra durable, the caveat of course being the up hill battles.
Pro Tip: Switch your freewheel from a 16T to an 18T for more torque in the winter.
Tire Choice: Studded Tires are a MUST for winter riding.
Tip #6: Swap your summer slicks for winter studded tires, they go as small as 700x30 to fit some of the tighter clearances. Studded tires make all the difference for optimal grip on those icy and slushy patches.
Make sure you 'set' your studs prior to hitting the ice, ride on pavement for at least 2km to get those studs set into the rubber. Otherwise you may risk having a few studs peel off into the ice.
Studded tires install the same way as normal tires, if you are short on time, drop by your local shop for a quick swap.
Studs are not the only feature of winter tires, just like cars your winter tires are made of a rubber compound more suited for cold weather, tread patters are also more aggressive.
Your blinky lights are not cutting it.
Tip #7: Get some bright lights. The EVO NightBright 240 is our choice.
I always here from fellow cyclists that they don't want to blind anyone with their lights but I've yet to see a pair of lights on a bike brighter than that FORD F150 with the LED ultra brights. Car lights are magnitudes brighter than anything a cyclist will mount on their bike, don't shy from bright lights and stand out. If big cars need that kind of visibility, we cyclists need even more.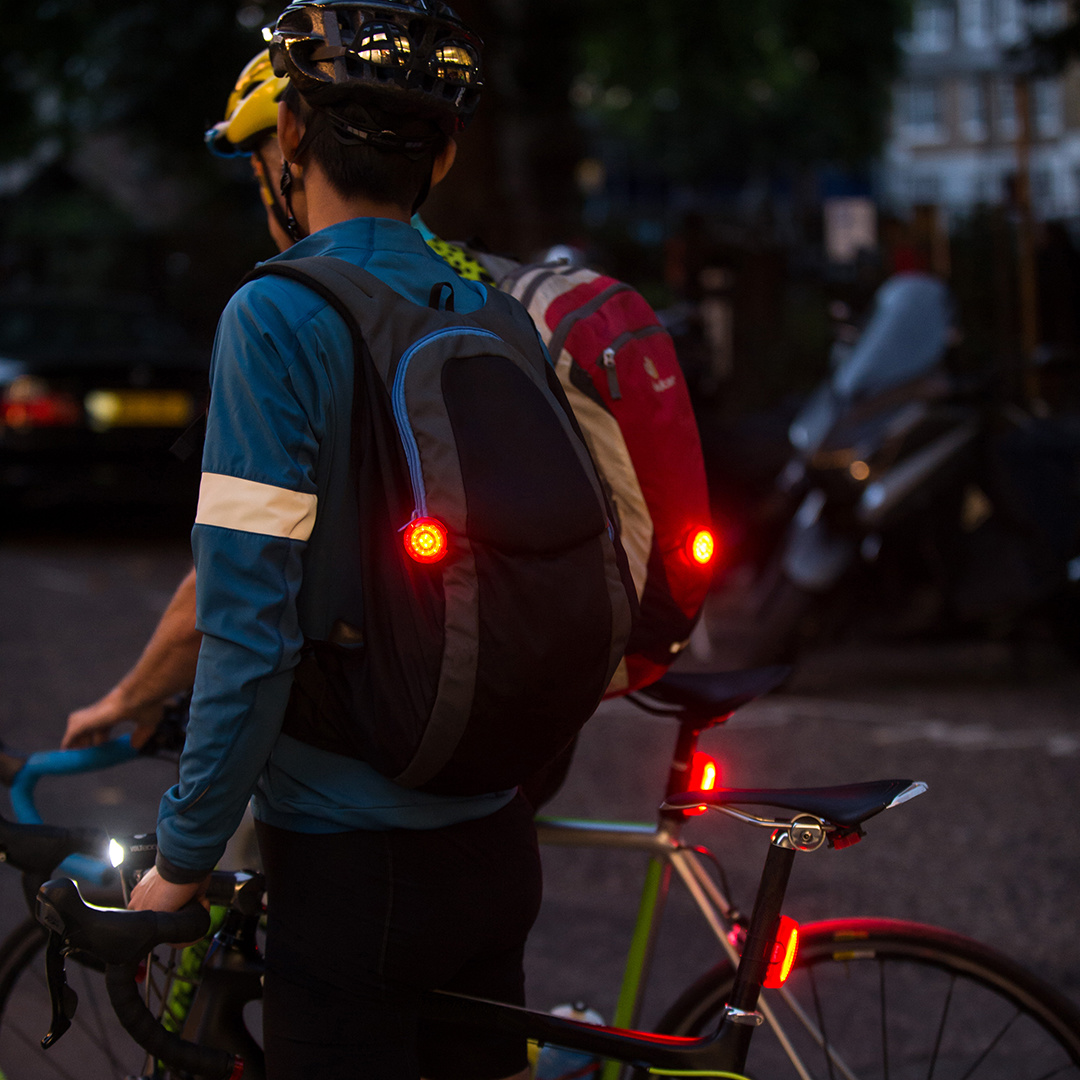 Fenders are a must.
Tip #8: Get some good fenders that give you lot's of tire clearance. Fenders too close to your tire will fill up with snow and slow you down, we recommend the down-tube XL fenders.
Your rear rack will usually be a good fender to protect your back. If it has gaps, get a seat mounted rear fender like this one from zefal.
Racks and Panniers, waterproof is a must.
Tip #9: Waterproof panniers like the Roswheel Tour Panniers will keep your stuff dry and secure for the commute. Invest in a good pair of panniers, my roswheel panniers have been my loyal rack companion for years and they are still in good shape.
Tip #10: Reinstall your rack with greased bolts or swap it for a more robust rack. Our choice is the roswheel tour, it's robust and lightweight.
Reinstalling your rack with greased bolts will ensure those bolts don't rust in place, we recommend you do your bottle cage as well.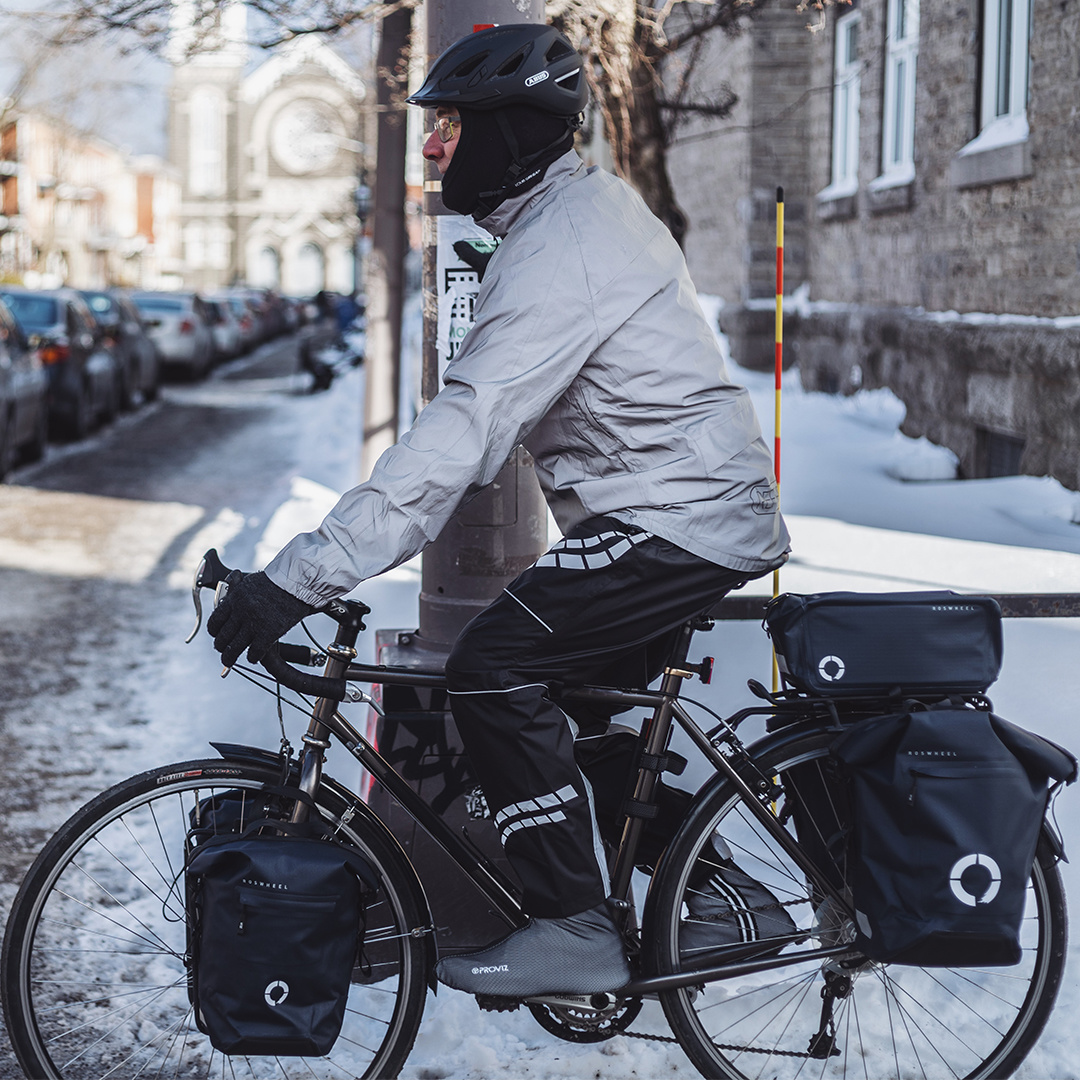 Check out our Instagram @quickcranks for this years winter bike build!
Signing off on this blog post, my top top top tip is to keep warm and keep at it. You won't perfect winter cycling on your first few rides but after a few weeks you'll get the hang of it. For me, cycling to work will always beat waiting for late buses and filling up at the gas station.
Leave a comment