The Quick Cranks Institute for Bicycle Repair
Beginner to Advanced Bicycle Repair Training and Accreditation
Ever wanted to learn how to perform basic maintenance on your bicycle? Quick Cranks is excited to teach Ottawa the skills to repair bicycles from flat tires to full bicycle overhauls, we have the training package for you. Bike Repair Courses in Ottawa & Gatineau.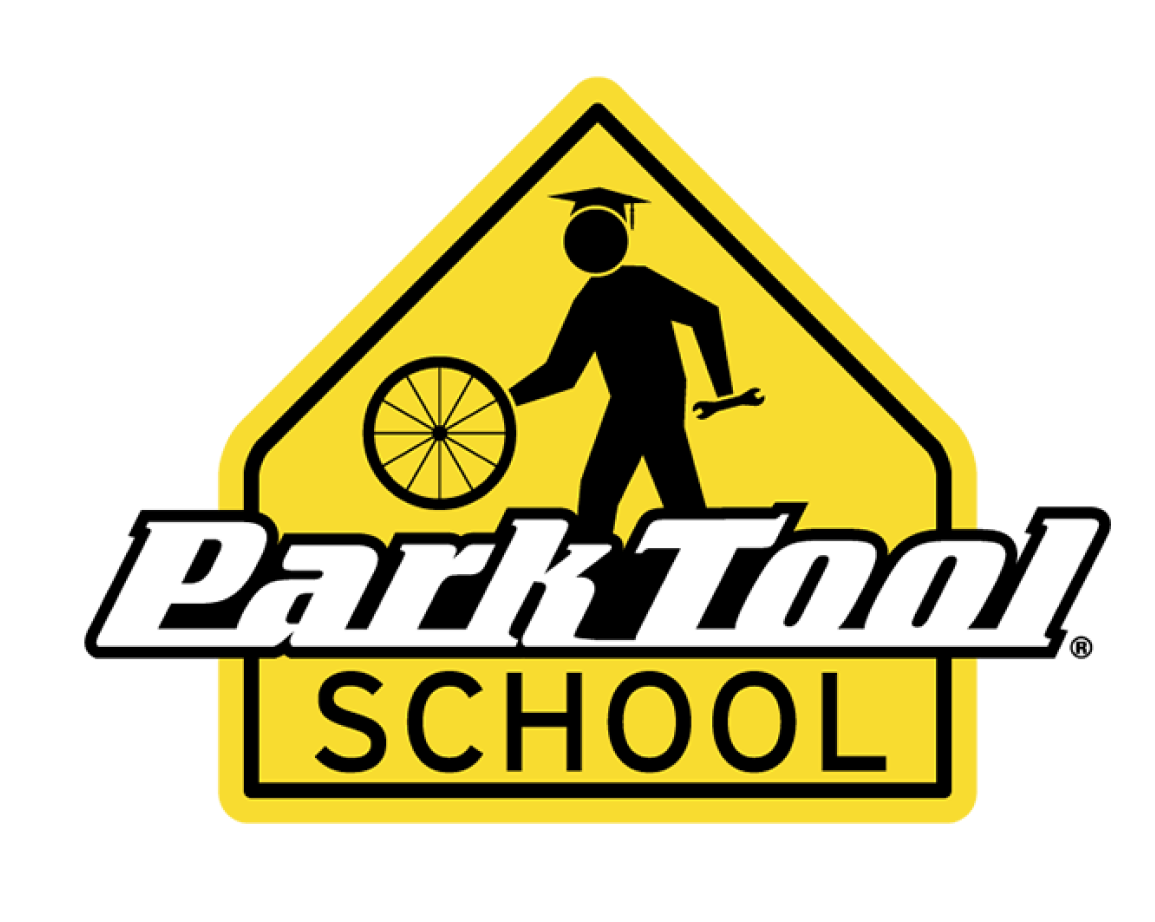 Hands On Instruction In A Pro-bike Shop
Professional instruction to repair YOUR bikes.
Professional instruction to repair YOUR bikes. Bring your bicycle to maximize our instruction and get comfortable performing maintenance on your bikes.
Professional Tools
Learning with the best shop quality tools makes repair easy.
A safe and fun atmosphere to learn and make mistakes!
With bike mechanics around you can make mistakes and we can fix it! We will be there every step of the way. Our training environment is free from discrimination and welcomes everyone.
Under 18?
Ages 12-16 must attend the class with a parent or guardian over 18.
Ages 16-18 require parental consent however may attend the course on their own.
Our novice course is perfect for students looking to start a job at a bike shop! We will teach you the skills to perform tune-ups and give you an edge on the job market.
Courses Offered
---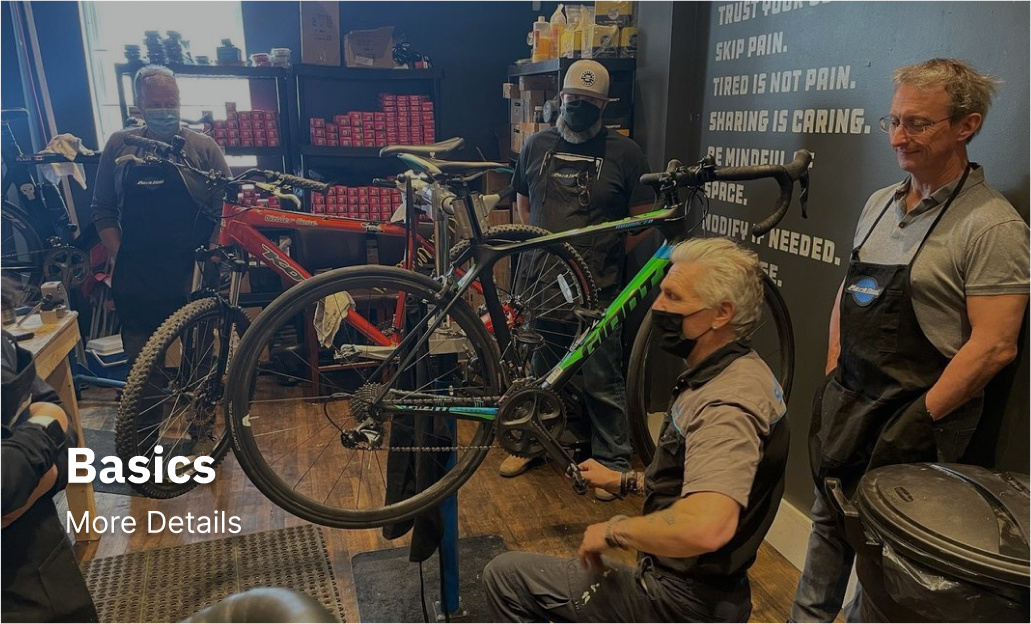 Basics - $79 - 3 Hours
Also known as New Rider Maintenance, this beginner course is perfect for cyclists who have little to no experience with bike repair. We will teach you how to use basic hand tools, bike anatomy and more.
● Wheel removals and installations
● Tire and Tube Replacements
● Chain cleaning, inspection and lubrication
● Minor shifting adjustments
● Bike safety inspections
● Brake adjustments and inspections


Current Course Dates:
● 12pm Saturday March 18th


---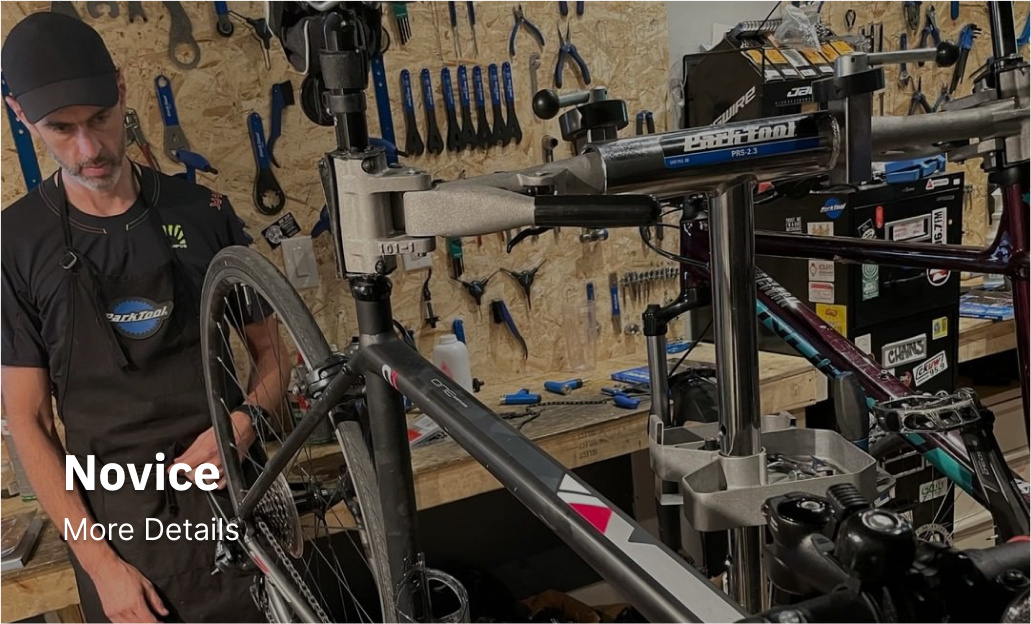 Novice- $199 - 8 Hours
Want to take the next step in bicycle maintenance? Learn more advanced topics and skills including the use of bicycle specific tools.
● All of the Basics of Bikes Course
● Brake Systems
● Derailleur Systems
● Wheel Truing
● Torque Specifications
● Bottom Bracket Systems
● Pedal, Handlebar, Bar Tape replacements
● Chain Systems
Current Course Dates:
● 9:00am Saturday, December 10th, 2022 (1 spot left)
● 9:00am Saturday, Jan 28th, 2022
● 9:00am Saturday, Jan 28th, 2022
● 9:00am Sunday, Feb 12th, 2022
● 9:00am Saturday, March 11th, 2022
● 9:00am Sunday, March 19th, 2022
---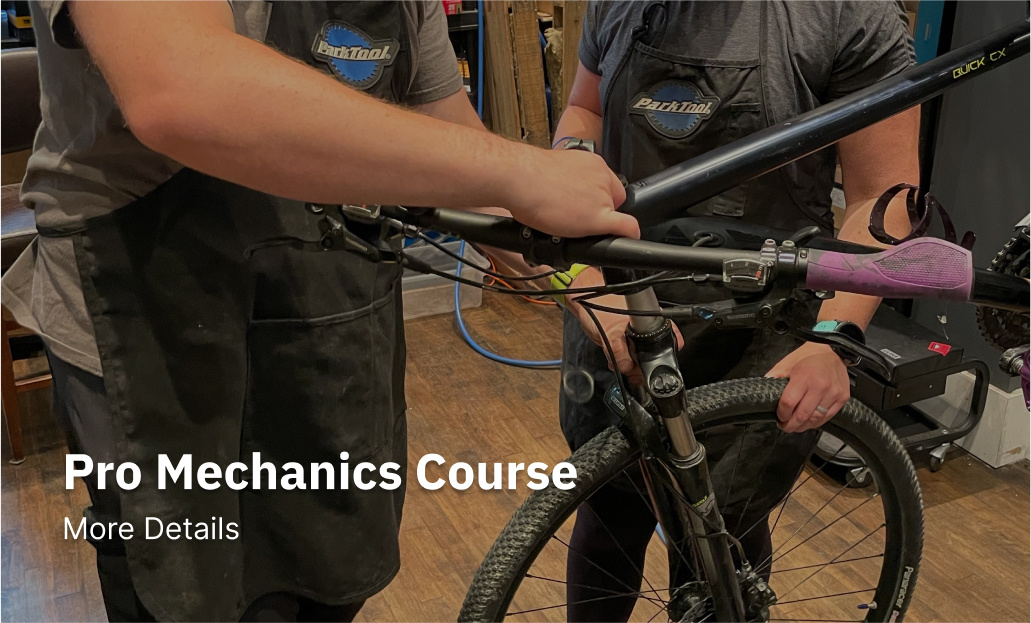 The Quick Cranks Professional Mechanic's Course - $1699 - 40 hours
This course runs on two variations. There is a weekend class series at 9am-7pm Saturday and Sunday for 2 weekends with a final exam taking place on the final day. Newly, there is a 5 day course Monday-Friday 9-5pm. A total of 40 hours of hands-on instruction, an examination and a Bicycle Mechanics Certification that can be used towards employment at a bicycle shop, staff certifications, starting your own business or diving into an incredible hobby. The class size is capped at 6 and all materials are included; a copy of the BBB-4, rim + spokes for building, learning bikes, aprons, safety glasses & more.
Full Curriculum and Schedule Here.
Current Course Dates
● Saturday & Sunday Nov 19,20 and Dec 3,4. 9AM-7PM.
Registration now FULL!
● Saturday & Sunday Jan 21, 22 and Feb 4,5. 9AM-7PM.
Registration now OPEN! (3/4 spots remain)
● NEW: Monday-Friday 9AM-5PM June26-30th, 2023.
Registration now OPEN! (4/4 spots remain)
Student Testimonies
---
Rebecca Seltzer
So happy this place opened up close to where I live. Mustafa is amazing, he is so friendly, knowledgeable, and generous with clients. I took their New Rider Maintenance course and learned a ton, was definitely worth it. I go there for all my tune-ups and purchases as well; their prices feel cheaper than other places in the city.
Matthew Siu
Matthew Siu I attended the Novice Park Tool School Repair Training hosted by Quick Cranks with John as my instructor. This was a 6 hour course that covered various topics including (but not limited to) replacing your tire, adjusting your derailleur(s), and watching for wear on your bike.

Throughout the course, I found John to be a knowledgeable and experienced bike instructor, and I feel both more informed about my bike as well as better equipped to do minor maintenance and repairs after the course. I particularly appreciated John taking extra time to make adjustments to my bike at the end of the training.

When I was browsing the shop afterwards, Mustafa kindly let me test ride a road bike, gravel bike, and hybrid bike, in addition to providing me with information about bike fit or Shimano components. Overall, I found my time at Quick Cranks to be helpful and educational as I continue to learn more about bikes.
Brittany Main
Took a beginner bike maintenance course here and it was so worth it! A great price and amazing instruction. Looking forward to taking another one! Love the culture of this shop.
David Upper
Took an intro bike repair course with John and it was great. Super knowledgeable and very informative. Highly recommended. I'll def be saving some $ doing more to my bike on my own.
Stephan Belanger
Super friendly staff. I very much enjoyed the beginner's bike mechanic course curriculum.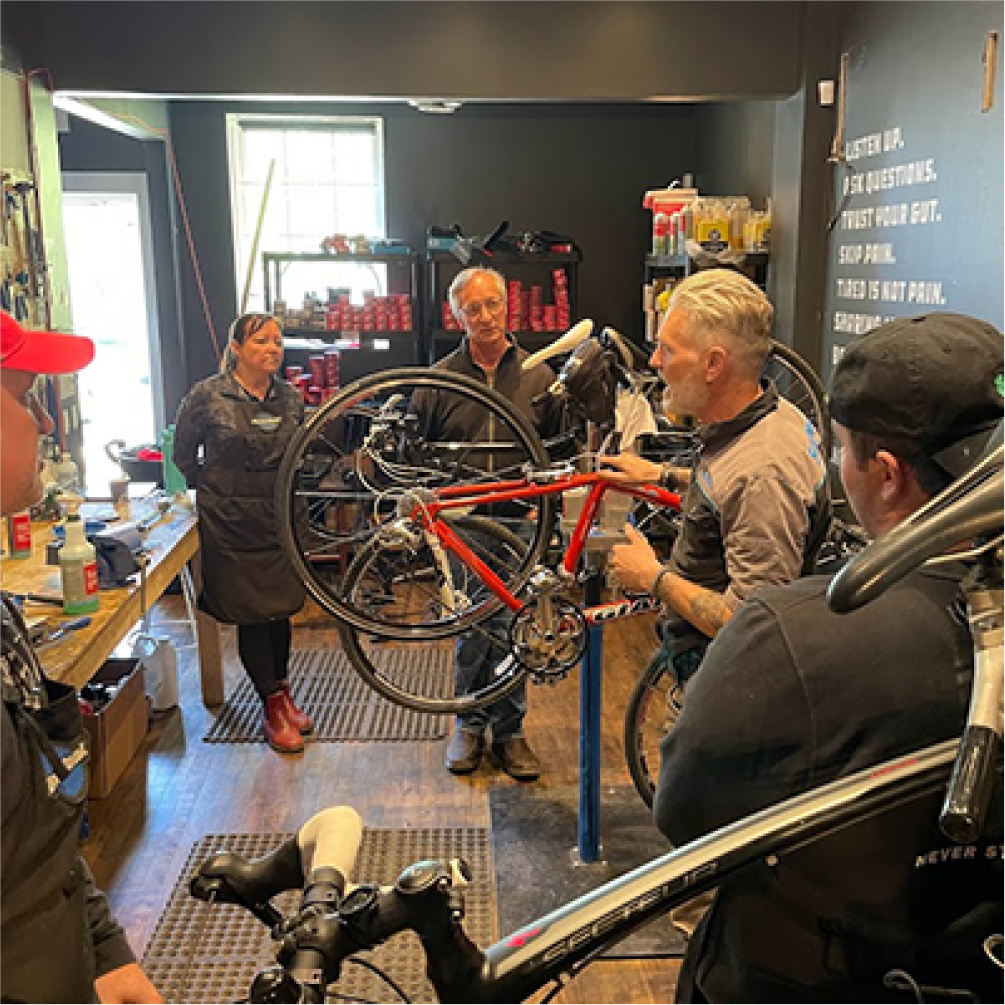 Good music, Good Coffee and a Good Time!